The HD2817T series have data logging functions, they measure temperature and humidity.
It is a transmitter, indicator, ON/OFF regulator Temperature and RH datalogger with graphic 128x64 backlit display.
Interchangeable probe. The probe can be replaced by the user without process interruption. Thus, the probe can be calibrated or repaired at a later time.

The instrument is available in three different versions:
- with horizontal probe (S.TO)
- with vertical probe (S.TV)
- with remote probe (S.TC) - with cable
For the correct set-up and probes, please ask us for assistance.
Product downloads
More information
Request more information about this product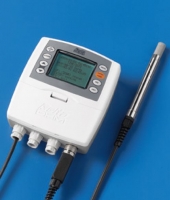 Click on the picture to enlarge
Current status:
This product is not available online, but we are happy to make a quotation for you. Please contact us with your request.