With this system you have all possibilities you will ever need in logging. From a simple 1 logger solution up to a network with 254 loggers.
How does it work:
First of all you will always need a basestation: this is the reciever of the signal being sent by the logger that collects the data. This receiver can be a simple USB dongle, but can also be a station that is connected directly to your network, or a station that is connected through Modbus.
Secondly you will need the logging instrument itself. We have a big variety in instruments and sensors; from loggers with integrated sensors for RH/°C/°F to universal input loggers to connect any 4-20mA or 0-10V signal that you want to monitor.
The system is industrial, based on an very stable internal communication signal. Available in IP67 housing, so for any environment.
Product downloads
More information
Request more information about this product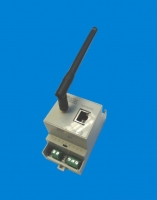 Click on a picture to enlarge
More photos
Current status:
This product is not available online, but we are happy to make a quotation for you. Please contact us with your request.