Rain and Snow precipitation measurement: weighting principle.
Can be supplied in 200cm2, 400cm2 and 500cm2 with a range from 250mm to 1500mm. Highly accurate and rugged design.
Maxiumum range intesity of 120mm/min.
Power supply 8+24VDC (max 15mA)
Heating supply 12V (1A) - optional 24V
• Measurement of: solid and liquid precipitation, one minute intensity, total sum of precipitation, rain duration
• Elimination of: wind vibration, particles, unreal step change of weight, evaporation, temperature fluctuation
• Output signals: contact, serial RS 485 / SDI12
• Easy maintenance
• Evaluation and control of accuracy "in situ"
• Local and remote diagnostics
• Orifice heating included
• Direct replacement of tipping bucket rain gauge
Available types:
TRwS 204
TRwS 504
TRwS 205
TRwS 405
Product downloads
More information
Request more information about this product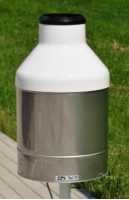 Click on the picture to enlarge
Current status:
This product is not available online, but we are happy to make a quotation for you. Please contact us with your request.