Mini controller, size 48x48mm. To be used in continues processes, PID or ON/OFF action.
Universal input: TC (B,E,J,K,L,N,R,S,T,U) or Pt100 or (0)4-20mA 0r 0-50mV or 0(2)-10V.

Output to be selected at moment of order:
* 0-20mA or 20-0mA / 4-20mA or 20-4mA
* 0-10V or 10-0V / 2-10V or 10-2V
* RS485 Modbus RTU
Power supply 100-240VAC or 24AC/DC.
Optional: relay output/ 250VAC, 5A or 24V Logic output.
More information
Request more information about this product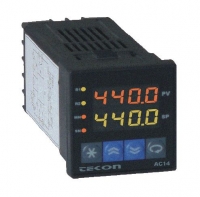 Click on the picture to enlarge
Current status:
This product is not available online, but we are happy to make a quotation for you. Please contact us with your request.