Active transmitter to measure air speed in ducts, 4…20mA output.12mm probe, SS (304) The TO version has the electronics directly connected to the probe.The TC version has the probe connected to the electronics through a cable of 2/5/10 meter.
Available with 4-20mA outputs or 0-10V outputs and in combinations with temperature and humidity.
HD2903T (4-20mA output) or HD29V3T (0-10V output): airspeed only
HD2937T (4-20mA outputs) or HD29V37T (0-10V outputs): airspeed + temperature
HD29371T (4-20mA outputs) or HD29V371T (0-10V outputs): airspeed + temperature + humidity
Air speed ranges selected by jumper.
0.05…1m/s
0.1…2m/s
0.20…10m/s
0.20…20m/s

Power supply16...40Vdc or 12…24Vac. Air probe operating temperature -10…+80C.
Please ask us for assistance to configure the correct code.
Product downloads
More information
Request more information about this product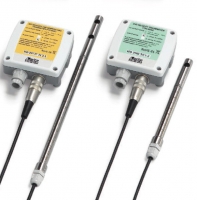 Click on the picture to enlarge
Current status:
This product is not available online, but we are happy to make a quotation for you. Please contact us with your request.