CPM12-8P.x: 8-pole cable. Length xm. 8-pole M12 connector on one end, open wires on the other side (for S - MODBUS- sereies Pyranometer).
Available in x = 2/ 5/ 10 meters.
More information
Request more information about this product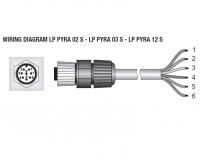 Click on the picture to enlarge
Current status:
This product is not available online, but we are happy to make a quotation for you. Please contact us with your request.